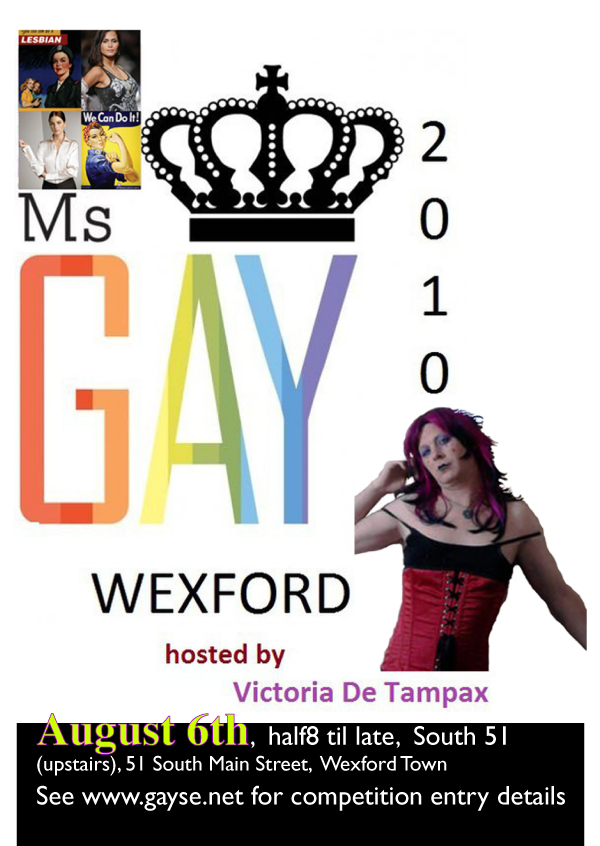 Who would you like to represent Wexford? She must be a woman of distinction. A lady you admire or would like to represent LGBT Ireland. Or too 'cute' to be true. A Gay, Lesbian, Bisexual or Transgender woman.
We're looking for a role model to represent the model county, Wexford.

Your piece might be a video-documentary, your pageant perfect performance, prom queen, a recital, how to, story telling, dance, singing etc or traditional exhibition pieces, a painting, a piece of sculpture (submission by photograph & brief bio), an installation, poem, creative writing, your talents & your imagination are the limit.
Alternatively you may fill in the shorter 'Nominations here' form, upload your picture and your in.
Heats have been announced all over Ireland, North and South, and the winners will converge on the Forum in Waterford on the 10th of September. All proceeds raised will be split between a nominated Irish women's charity and the winner's selected charity.
Congratulations Victoria deTampax on getting through to the final of the dragiators.com which is being held on the 16th of July
Over July/ August submissions will be available to view & voting via the poll 'vote here'. Nominate/ submit your entry. The earlier the better. The results will be shared at the cocktail swaree hosted by Victoria DeTampax on the 6th of August, in South 51 (upstairs), 51 South Main street, Wexford town. From half8 til late. Voting concludes 12.00pm Friday the 6th of August.
For further details see Ms Gay Ireland on Facebook and msgayireland.com
For more information text the GayWexford Outline: 086 079 2625, 6:30pm – 7:30pm, Monday to Friday or www.gaywexford.com, or follow GayWexford on Facebook, Bebo, Queer id & twitter