Contact Form Shortcode Error: Form 3 does not exist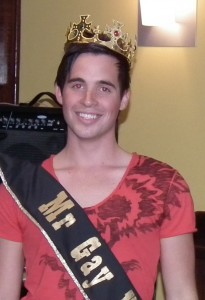 Craig is through to Mr Gay Ireland and now he must fund raise. He needs your help to do it.
The Fundraising. There is no fee to participate in MGI as instead we ask the venues and community groups to support you in helping the fundraising and in supporting you in participating in the Dublin Final. Ideas include asking people to support the HIV charity by sponsorship (swim, shave, dare, run) – we provide the cards to you. You can do an event in your group or venue like a table quiz, auction, race night, slave auction, run a mini marathon, buckets on the counter, a donation from the entrance fee, raffle etc. Really go for this – it is the most satisfying element of the event.
All monies MUST be brought to us at the latest by noon on Saturday October 23rd. You can send them into us in advance if you want. Only monies received by then will be included in the charitable donation which is publicly handed over during the Final to the charity. 100% of all monies raised go directly to St James Hospital New Fill Project. The Fundraising effort is marked and counts as one judge in the final – your effort (bonus points awarded) is as important as the amount raised. There is an award for the Best Fundraiser. Please make all cheques/postal orders out to the St James Hospital Foundation.
You can contact Craig directly via the form below and let him know what your doing to help: