Grand Bingo special
Bingo

EVERY

Wednesday night @ the Forum, Waterford with sOUTh and LGBT Parents Southeast




Open to everyone  • friends • family • nans to nuns  etc.

€5 a book of ten games
Doors open 7.30pm • Eyes down 8.30pm

The LGBT South East Awards 2012 will be held on June 1st in Mojo Lounge, Waterford hosted by Joanna Ryde followed by DJ Chloe til late. Tickets are €15 with finger food and champagne reception included.
Please nominate by using the form at the link below. You may nominate only once and the closing date is May 4th after which a representative from LGBT groups in the region will meet to choose the winners.
Nominees for the South East catagories can be from Carlow, Kildare, Kilkenny, South Tipperary, Waterford, Wexford and Wicklow.
Nominees for the Irish catagories can be from anywhere in the country.
http://www.southlgbt.com/awards/
Eurovision Preview Party
The Basement & Terrace at Revolution
19 John St, w1 Waterford, Ireland
• Friday, 18 May 2012 • 20:00 until 02:00
"Munster's First Ever Eurovision Preview Party
Watch this years songs on the Big Screen, then party into the small hrs to your favourite Eurovision & National Final Gems, mixed by DJ Chloe Jackson of Lamph.
COSMO – SEX IN THE CITY COCKTAIL NIGHT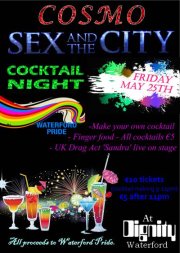 Dignity Bar, John street, Waterford
Friday 25th May
21:00 until 00:00
– Make Your Own Cocktail
– Finger Food
– ALL Cocktails €5 ALL Night
– UK Drag Act SANDRA Live on Stage
€10 Tickets (cocktail making class & food)
€5 Entry after 11pm
All proceeds to Waterford Pride