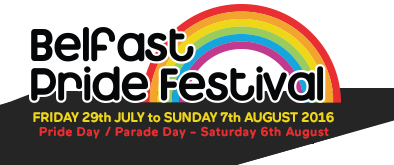 belfastpride.com
Friday 29th July – Sunday 7th of August
The 2016 Belfast Pride Parade will take place on Saturday 6th August.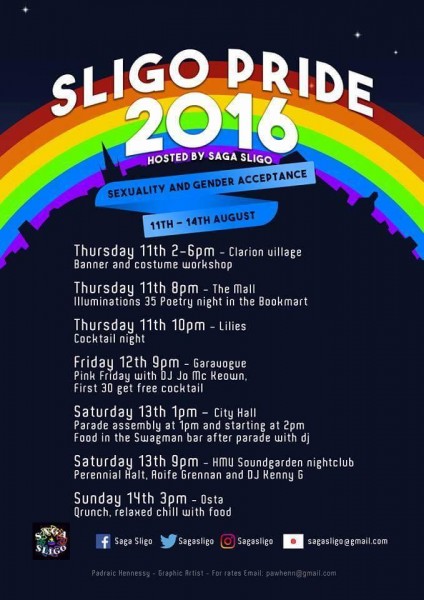 Sligo Pride 2016 hosted by Saga Sligo
Sexuality & gender Acceptance
11th August – 14th August 2016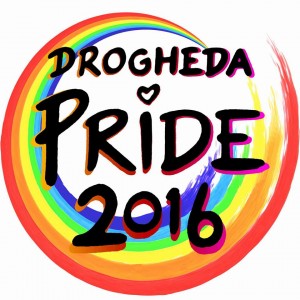 Drogheda's GLBTQ group are hosting the town's first Pride Festival from Friday August 12th to Sunday August 14th, with sponsors Arrow Tours and Rockin'Joes Diner.
Details
Starts: Friday, 12th August 2016
Ends: Sunday, 14th August 2016

Venue
Drogheda and surrounding area
Drogheda Town
Contact: Drogheda LGBTQ Facebook
More> information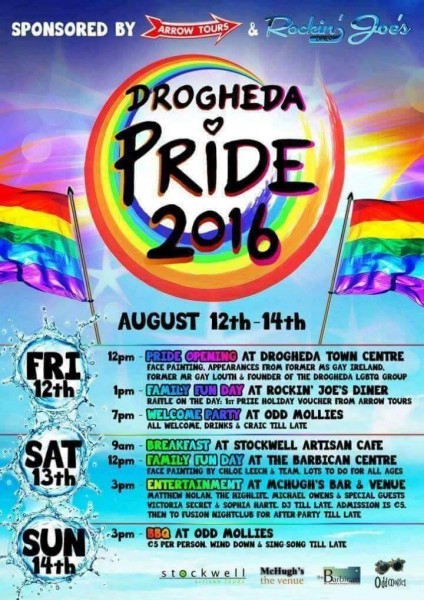 Parade And Party on Saturday 20th August.
Some members of the LGBT community in Kilkenny have decided to hold a protest of the Angus Buchan event in The Hub at Cillin Hill on Wednesday 24th. We hope to meet up in Brewery Corner at 6:30pm on Thursday 18th. All are welcome!
Thursday 18th August 2016, 18:30–19:30
Brewery Corner, 29 Parliament Street, Kilkenny, Ireland
• Recent homophobic attack (July 30) in Phoenix Park.
ANTI-HOMOPHOBIA DEMONSTRATION: THURSDAY AUGUST 18TH @ 7PM OUTSIDE CRIMINAL COURT, PARKGATE STREET, DUBLIN.
Stand Up Against Homophobia • facebook.com/events/

When = Aug 20 at 11:30 PM to Aug 21 at 2:30 AM
Basement bar & Terrace Johns Street, Waterford
Tickets are available on the door €5
The White Ball • Ministry of Pride • 20 August 2016