USI's LGBT Ally Inititive Launch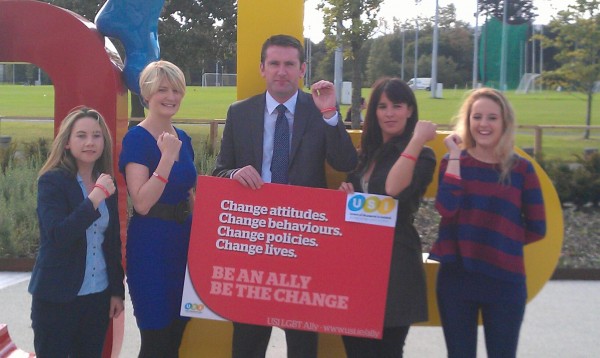 1st October • 11:30 until 12:30
Screening of USI's new lgbt ally video, aswel as guest speakers and the importance of being an LGBT Ally. Please come along and show your support. Open to the public so bring your friends.It will last for up to an hour and is taking place in Room A02 (beside the witcard)
Facebook event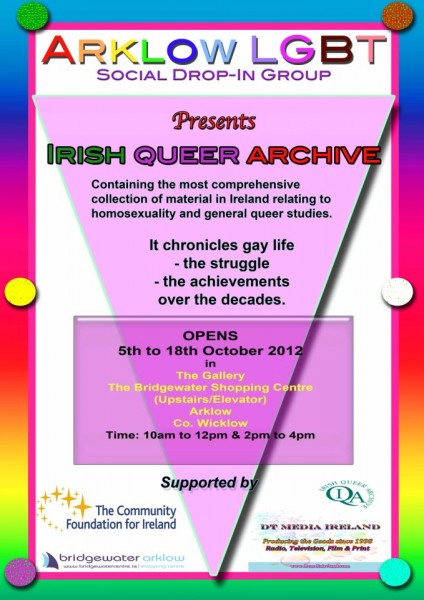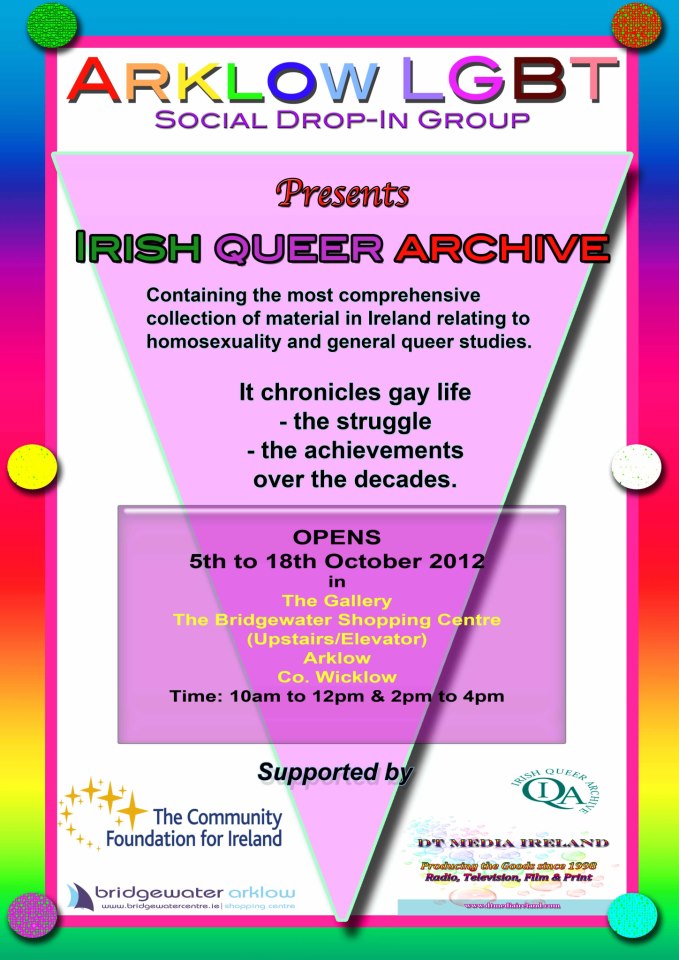 Arklow LGBT Social Drop-in • Irish Queer Archive Exhibition • 5th – 18th Oct '12 article
Transgender Personal Development Course
 Friday, 12 October 2012
 Waterford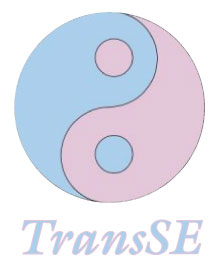 This is a 3 day (full day) event, focussing on self esteem, awareness, life skills and personal development. Start date is Friday 12th October, followed by, Friday 2 Nov and completed on Friday 23rd of Nov.
All participants will need to be available for all 3 days any queries to vanessa@teni.ie
Facebook event
Gossip • Judge Roy Beans • October 13th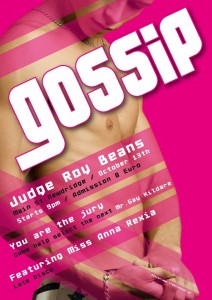 Saturday, 13 October 2012 •  21:00
 'Let's give them something to talk about'
GOSSIP is Kildare's biggest ever gay night. It starts @ 9 PM on Saturday the 13th of October, 2012 @ Judge Roy Beans, Main Street, Newbridge, and this is one night you won't want to miss.
Get PAPPED: The paparazzi are waiting for you on arrival. Everyone's a VIP @ GOSSIP.
Come help select the next Mr Gay Kildare. Watch these young, sexy gay men fight their way to be crowned the next Mr Gay Kildare – and let's hope there are no mishaps during the talent round! You (the crowd) are our judges. YOU choose the next Mr Gay Kildare!
You will be entertained by some of the biggest names in Drag during our Drag Show but beware, you might get a little more than you bargained for when Ms Anna Rexia performs her saucy burlesque number… Not to mention what the other ladies have in store!
After the crowing it's time to dance the night away!
If you want to be a contestant at the Mr Gay Kildare Final please look for details @ www.gaykildare.weebly.com • facebook event
ADMISSION: €8
Starts 9 PM
Awareness Training Workshop • Lesbian, Gay, Bisexual & Transgender • Wexford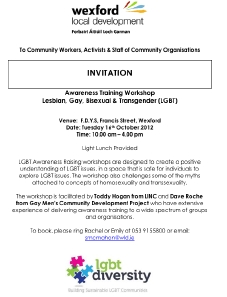 To Community Workers, Activists & Staff of Community Organisations
Venue:  F.D.Y.S, Francis Street, Wexford
Date: Tuesday 16th October 2012
Time: 10.00 am – 4.00 pm
 Light Lunch Provided
The workshop is facilitated by Toddy Hogan from LINC and Dave Roche from Gay Men's Community Development Project 
To book, please ring Rachel or Emily at 053 9155800 or email: smcmahon@wld.ie • Awareness Training details
Simon Landons • Neon School Nite & Sponsored body wax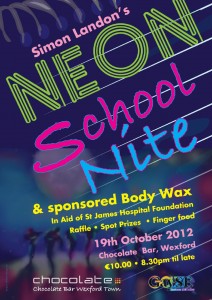 Friday, 19 October 2012 •  20:30 til late
Chocolate Bar, Wexford Town Admission € 10.00
Raffle & Spot prizes too, Finger food & victims going undergoing the wax treatment.
Dig out that old School uniform spruce it up with some bling and neon and join the fun.
It will be blast.
Everybody is welcome.
Simon is fundraising for the St. James's Hospital Foundation charity (New Fill HIV service) funds raised will go towards his mark in his endeavor to become Mr Gay Ireland. Please support this worthy cause.
Mr Gay Wexford 2012/ 13 Facebook page
If your not lucky enough to have Simon whip out his sponsorship card in person, you can still sponsor Simon Landon  at mycharity.ie/event/simon_landons_event 
Please spread the word • Facebook event
GayBray Open Forum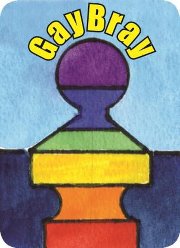 Saturday, 20 October 2012
14:00
GayBray (social group for Lesbian, Gay, Biesxual, Transgender people living in Bray and surrounding areas) are hosting an open forum on Saturday October 20th. Please email us – GayBray@gmail.com for more information
Facebook Event
Sunrise LGBT Kildare and Athy : invited to a Film night by Athy film club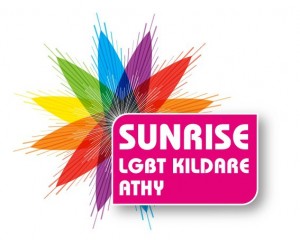 On Saturday 20th October 2012 there will be a screening of two films as part of the Athy Film Club Local Interest / LGBT Night. The films will be shown in the purpose built theatre in Athy College on the Monasterevin Road at 8 pm and will be preceded by a complementary snacks with wine/coffee/tea reception from 7.30pm.
1st film will be 'Hold On Tight' A compelling exploration of the thoughts and feelings of a series of lesbian and gay couples about displaying affection in public.
2nd film that will be shown is 'Loose Cannons' (Romantic/Comedy)  This is a very amusing but sensitive look at the reaction of a conservative Southern Italian family when a son comes out as gay. It is bright, smart and surprisingly moving.
Members € 5
Non-Members € 8
Facebook: facebook.com/sunrise.lgbt.athy
Table Quiz in Aid of St James Hospital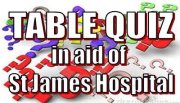 Mr Gay Kilkenny • Ciaran O'Neill
Location: The Nixon On Watergate, No.1 Parliament St, Kilkenny
Thursday • 25th October 2012 • 20:00
We will be hosting the second of two fundraisers, in aid of St James Hospital on Thurs 25th Oct at 8pm.
A table of four is €20 and don't worry if you don't have a full table – we'll help you make up a table.
Lots of drink promos, good prizes and a raffle on the night.
Be sure to come down and help support this very worthy cause.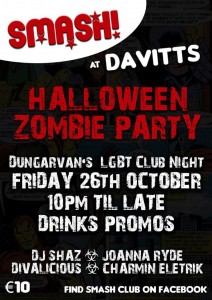 Halloween Zombie Party
Dungarvans LGBT Night
Friday 26th October
10pm til late, €10.00
at Davitts of Dungarvan
A quick note to all those lovely ladies attending Friday night. They're holding a heat to find Ms Dungarvan for the Ms Gay Ireland competition.
Who's is gonna represent County Waterford at Ms Gay Ireland with Ms Dignity, Christine Fitzharris?
.
The pink panther disco party 27thOct2012· By Ciarrai Amach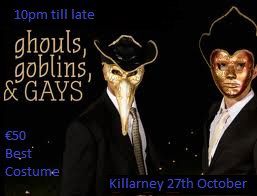 Saturday, 27 October 2012
•    The next Pink Panther Disco
•    halloween fancy dress party
•    Saturday 27th  of October
Facebook event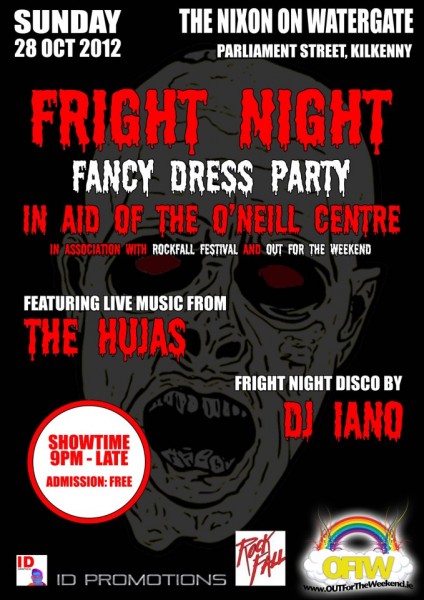 .Sunday 28 October at TheNixon OnWatergate – DJ Iano in Association with Rockfall festival and Out For The Weekend presents Fright Night Hallow'een fancy dress party.
Featuring live music from The Hujas and a very special Fright Night Disco by DJ Iano.
All donations to help the O'Neill Centre are welcome.
Admission is free and there will be great drinks promos all night!
Don't miss it!