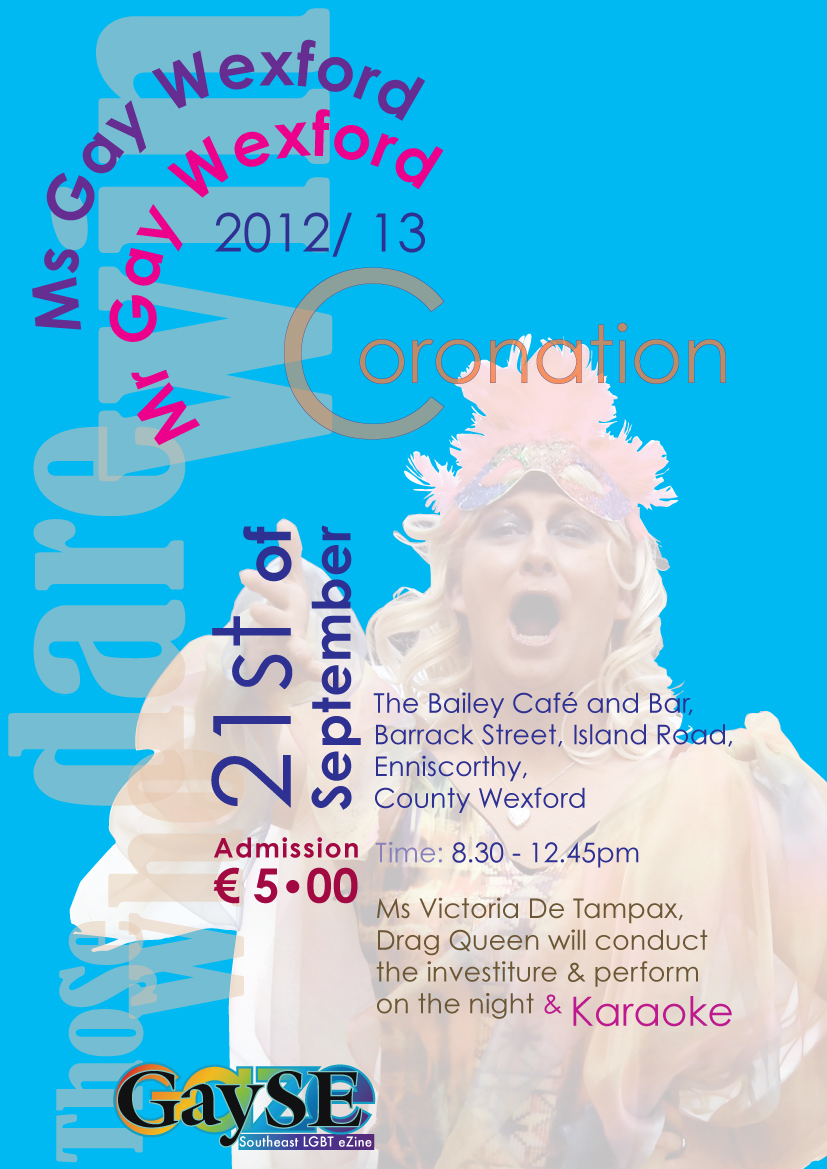 When • Friday 21st September 2012 • 20:30 until 00:45
Where • The Bailey Café and Bar, Barrack Street (Island Road), Enniscorthy, County Wexford
• Ms Gay Ireland is a national competition celebrating LGBT women from all over Ireland. Working on LGBT awareness and visibility • Ms Gay Ireland • 
• Mr Gay Ireland is an All Island project to promote the self esteem of young gay men and to support HIV/Aids, treatment & research in St. James Horpital • Mr Gay Ireland • 
• We're holding their Coronation on the 21st of September in the The Bailey Café and Bar, Barrack Street (Island Road), Enniscorthy, County Wexford.

• Time: 8.30 – 12.45 pm

• Ms Victoria De Tampax, Drag Queen will conduct the investiture and perform on the night. Then it's your turn, the show will be followed by Karaoke.

• The Fundraising starts here with an Entry fee of €5.00

• Every one Welcome.
• The search began at the end of June 2012, the word went out on the Internet, via GaySE.net our Facebook, twitter and the GayWex LGBT Info Portal, we posted posters, contacted media and talent scouted for eligible candidates.
• Simon applied online via the GaySE.net entry form. Simon is 34 years old, a parttime hair stylist and lives in Rosslare, County Wexford. Simon will represent County Wexford as Mr Gay Wexford 2012/ 13 at the The Mr Gay Ireland Grand Final taking place over the October Bank Holiday Weekend. Simon is fundraising for St James Hospital.
• We know some of our readers are outside of Ireland and Wexford County please feel free to share word of this event to anyone you think might be interested in attending. Thank you for your support