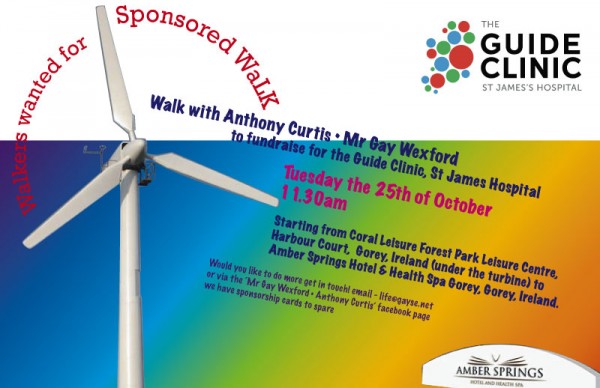 Walkers wanted for sponsored WaLK
Walk with Anthony Curtis • Mr Gay Wexford
to fundraise for the Guide Clinic, St James Hospital
Tuesday the 25th of October
11.30am
Starting from Coral Leisure Forest Park Leisure Centre,
Harbour Court, Gorey, County Wexford, Ireland (under the turbine) to
Amber Springs Hotel & Health Spa Gorey, Gorey, Ireland.
Would you like to do more get in touch! email – life@gayse.net
or via the 'Mr Gay Wexford • Anthony Curtis' facebook page
http://www.facebook.com/pages/Mr-Gay-Wexford-Anthony-Curtis/188398467894916
we have sponsorship cards to spare.
Fundraising for 'The Guide Clinic', St James, Hospital counts as one judge for the Mr Gay Ireland final on the 30th of October.http://www.mrgayireland.ie/wordpress/