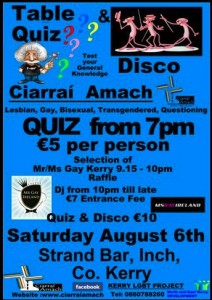 Note from Ciarraí Amach: Selection of two fantastic representatives who are going to do great work promoting Kerry over the course of their reign as Mr/Ms Gay Kerry.
Well done to you both, you were excellent on the night and a big thank you to Silver Staak who relinquished her hard won title as Ms Gay Kerry to Cilla Beer our new Ms Gay Kerry for 2011.
Patrick you will do a fantastic job of the Mr Gay Kerry title I'm sure. You have been to the fore in promoting LGBT in Kerry. Looking forward to you bringing that to a new level.
Last but not least thank you to the other candidates it was a night to remember with some fantastic stories, songs and great talent all around.
Cilla Beer facebook.com/MsGayKerry
Patrick Allen facebook.com/pages/Mr-Gay-Kerry