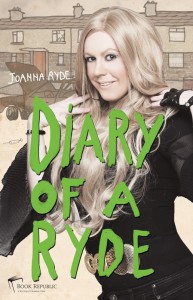 Wednesday the 23rd of November, from 6.30 pm, Andrew's Lane Theatre, Dublin.
Irish comedian Joanna Ryde's performs live at the launch of her book Diary Of A Ryde which is OUT NOW!! Order it in any UK or Ireland bookshop or online around the world on Amazon, Book Depository and Snazal. You can also check Joanna out on Twitter @JoannaRyde
http://www.bookrepublic.ie/books-d/277-diary-of-a-ryde
Diary of a Ryde signing in Waterford, Friday, 25 November 2011 – 18:30 until 20:30
This is from the Waterford launch of Diary Of A Ryde in the Book Centre.