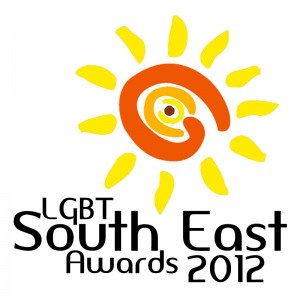 The Nominations for the LGBT South East Awards are OUT. Congratulations to everyone who has been nominated.
A HUGE Thank you to those who nominated GaySE.net in the Irish LGBT website category.
We're so excited.
And the nominees are…
The LGBT South East Awards 2012 will be held on June 1st in Mojo Lounge, Waterford hosted by Joanna Ryde followed by DJ Chloe til late. Tickets are €15 with finger food and champagne reception included.
Public nominations are now closed and representatives from sOUTh, Out For The Weekend, LGBT South Tipperary, Gay Wexford, Sunrise Kildare and LGBT Diversity will meet to choose the winners.
Each catagory has a minimum of 5 nominees and anything above this is as a result of a draw in the public vote for that catagory.
South East LGBT friendly business
Dignity Bar, Waterford
Geoffs Bar, Waterford
Mycrofilms, Kilkenny
O'Keefe's, Clonmel
Revolution/Mojo, Waterford
River Sanctuary Holistic Centre, Waterford
South East DJ
DJ Chloe
DJ Cullie
Stephen Duggan
Ian Doran
DJ Shaz
South East entertainer
Charmin Eletrik
Divalicious
Joanna Ryde
Storey
Victoria De Tampax
South East LGBT event
Gay Wedding Kildare
Mr Gay South Tipperary
Out For The Weekend
Waterford Pride
TransAction 2
WIT Rainbow Day
South East LGBT organisation
Chill Out
Out For The Weekend
sOUTh
LGBT South Tipperary
TranSE
WIT LGBT
South East LGBT person
Alan Slattery
Berni Smith
Deirdre Ni Dhubhghaill
Jim Gordon (Flash)
Thomas Ryan
Tracy Morrisey
Vanessa Lacey
South East LGBT social group
Dining Out Kilkenny
sOUTh
Sunrise LGBT Kildare
Wanna Bees Glee Club
WIT LGBT
South East straight
Amanda Kavanagh
Brian Staunton
Denise McCarthy
Ger Taylor
James Bishop
Jonathan Rolle (Chuckie)
Mary Byrne
Mary Roche
Ross Costigan
South East volunteer
Aideen Aulsberry
Dee Bushell
Kevin Kelly
Thomas Ryan
Tracy Morrisey
Trina Tsai
South East youth initiative
Chill Out
Gay Youth Wexford
LGBT Parents
RockOut Kilkenny
Stand Up
Irish LGBT event
Alternative Miss Ireland
Dublin Pride
Mr Gay Ireland
Ms Gay Ireland
Pink Training
Irish LGBT media personality
Alan Hughes
Brendan Courtney
David Norris
Michael Barron
Panti
Irish LGBT organisation
Belong To
GLEN
LGBT Diversity
Marriage Equality
TENI
Irish LGBT website
Belong To
Gaelick
GayCork.com
Gayse.net
JoannaRyde.com
Out For The Weekend
QueerID
TENI