LGBT Parents • Waterford
We're holding a Table quiz and raffle in Dignity bar Waterford on the 2nd September @9pm.
Tables of 4 @ 20 euro
If you would like to be involved in any way contact me Kevin at lgbtparentswaterford@gmail.com via facebook or 086 720 0634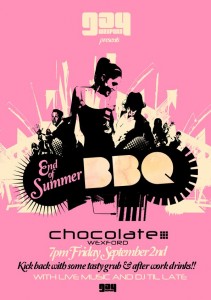 End of Summer BBQ & After Work Drinks
Time: 02 September at 19:00 – 03 September at 02:00
Location: Chocolate Bar, Wexford
Super Value Carpark, Wexford Town
Wexford, Ireland
Gay Wexford email gaywexford@gmail.com, info@gaywexford.com.
Gay Wexford End of Summer BBQ & After Work Drinks Details here
The ALL New 7 Gays of Dignity.. • Waterford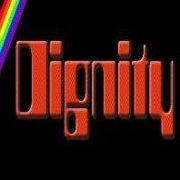 Time 05 September at 18:00 – 31 December at 23:30
Location Dignity Bar, John St, Waterford
Created by: Dignity Bar Waterford : event
Mondays : booze fest
Tuesday: Joanna's Big Table Quiz. If anybody is intrested in raising money for a college society or charity give us a call.
Wednesdays: " XXX " ALL DRINKS €3 ( except shots and cocktails)
Thursdays: DJ Shaz playing all the best retro sounds of the 70s,80s and 90s!
Fridays: "EuroGay" with DJ Chloe playing all of the best of EuroPop and Campy Chart tunes till late..
Saturday: "Pop Eletrik" Drag Show with Charmin, Joanna Ryde, Cher Guevara, Roxxi Sparks and Divalicious from 10pm
Sunday: "Pick'n Mix" Any 3 drinks for 10!! Free Entry;
Bowling • Kildare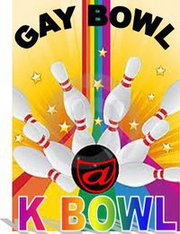 Time: 10 September · 19:30 – 21:30
Location: KBowl,Unit W8B/C, Ladytown Business Park
Created by: Sunrise Lgbt Kildare
More info: So who's up for a few Lanes again…..
Looking at going to K-Bowl Saturday 10th September.
We need definate numbers by Wednesday 7th September so please comfirm by email to sunrise.lgbt@gmail.com or phone 085 740 9988
Should be a great night
Bowling Waterford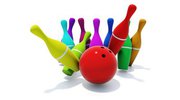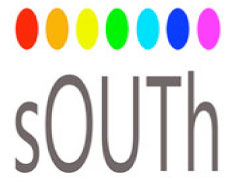 Time: 4 September · 19:00 – 22:00
Location
Waterford Bowl & Kidzone
Williamstown, Waterford
Waterford, Ireland
More info: In association with sOUTh lgbt
Bowling Night
m expecting you competitive people 🙂
Im looking for numbers before i make a definite price or time..so please RSVP!
www.waterfordbowl.ie/bowling/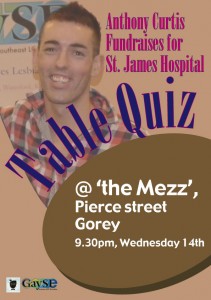 Table Quiz in Aid of St James Hospital
14 September at 21:00
Location: the Mezz Bar, Pearse Street, Gorey, County Wexford.
Mr Gay Wexford 2011 • Anthony Curtis is fundraising in Aid of St James Hospital (HIV Clinic) one of his fundraisers is a Table Quiz: @ the Mezz bar, Pearse Street, Gorey, County Wexford.
Date: 14th of September
Time: 9.00pm
Tables of 4 at €20 per table
Come along & Support Anthony and St James Hospital
Gay Weekend 2011 • Waterford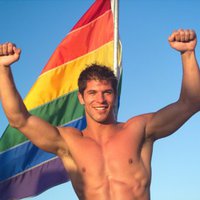 Time: 23 September at 17:30 – 25 September at 06:00
Location: Grand Hotel, Tramore
Created by: Gay Weekend, Tracy Morrissey, Danny Carey, Romeoromeo Julietjuliet
More info: One hell of a party with host DemiWhore!
Keep an eye on the Fan Page for updates.
Invite your friends!
Charity People Auction • Kildare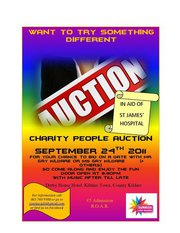 Time: 24 September at 20:30 – 25 September at 01:30
Location: Derby House Hotel
Mr Gay Kildare 2011 Cris Pender
So guys as most of you know as Mr Gay Kildare part of the criteria for entering into the Mr Gay Ireland I have to do Fundraising for the St James' Hospital HIV Fill Project…
So this is the first fundraiser to take place and I'll need all hands on deck so let me explain what it is….
The People Auction will Take Place in the Derby House Hotel on the 24th of September where you will have a chance to bid on a date with Myself, Ms Gay Kildare Mary Gibney and some others…
€5 entry on the door
ALL THE PROCEEDS FROM THE NIGHT WILL GO TO THE CHARITY
Doors open at 8:30pm with the auction starting at around 9:00…
THERE WILL BE MUSIC + DANCING AFTERWARDS
So come along for a bit of Craic agus Ceol..
If you were at The 1st Ever Gay Kildare you'll know how much fun is to be had….
OH AND IF YOU'D LIKE TO PUT YOURSELF FORWARD AS AN AUCTIONEE GIMME A SHOUT; cristo_p@msn.com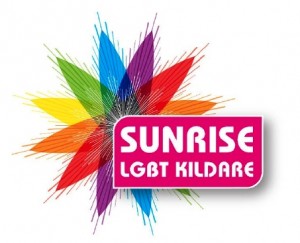 Sunrise LGBT Kildare
Different groups dependant on interests, e.g. Hill walking, Book Clubs, Gay People Parenting Support group…..
Date: every second week · 19:00 – 22:00
Location: Sunrise Coffee & Books, Eyre Street, Newbridge, Co. Kildare, Ireland
Contact Information
Phone • 857409988 Mobile
Email • sunrise.lgbt@gmail.com
Facebook• facebook.com/sunrise.lgbt.kildare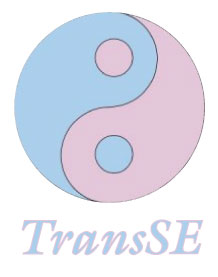 TranSE, Transgender South
East peer support group…
meets at the Cheshire Home, John Street, Waterford
every second Friday of each month.
For more information call Vanessa on 085 147 7166.