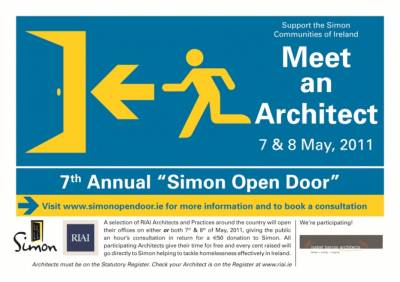 Anyone hoping to build, renovate or extend their home may be interested in this initiative.
Isabel Barros Architects will offer an hour long consultation in return for a donation of €50 to charity.
All of the money raised goes towards the work of the Simon Communities of Ireland.
The Simon Communities of Ireland work with people who experience homelessness and housing exclusion in Ireland.
This year will be the seventh year that the Simon Communities of Ireland has been inpartnership with the Royal Institute of Architects of Ireland. In 2010 over 950 slots were booked by the public raising almost €51,000 for the Simon Communities of Ireland through the R.I.A.I. Simon Open Door initiative.
"This is an excellent initiative where anyone can get practical advice on a range of issues, while helping the homeless," said Isabel Barros, MRIAI and Director of Isabel Barros Architects based in Wexford. "This time of economic recovery offers the public a unique occasion to engage architects to do even the smallest jobs, this will add extra value to their project and it is an opportunity not to be missed."
You can sign up for an appointment with Isabel Barros Architects on either Saturday 7th May or Sunday 8th May, just log in at www.simonopendoor.ie.
Contact: Isabel Barros
Mobile: 087 91 92 550
email isabel@isabelbarrosarchitects.ie
www.isabelbarrosarchitects