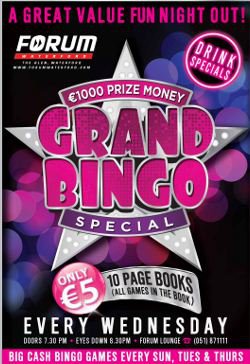 Bingo Wednesday nights @ the Forum, Waterford with sOUTh and LGBT Parents Southeast

Open to everyone  • fans • friends • family • nans to nuns…

€5 a book of ten games
Doors open 7.30pm • Eyes down 8.30pm
View Forum Waterford in a larger map
Kevin was a winner, You can be too!
"Last Wednesday was our bingo outing with sOUTh and lgbt parents. Eight people attended our first ever bingo in the Forum. It was a great night we hope more 'n' more people come along & make it a mega night.

Every Wednesday @ 7.45 at the Forum for eyes down and game starts at 8.30pm

All welcome Kevin"
So ask your fans, friends, family, neighbors, Come out for a Grand Bingo fun night.