The Article below was originally published on the Marriage Equality website on the 26th of June 2012. The links included go to their original sources.
If you're interested in more information & based in the Southeast of Ireland, contact me Kevin on lgbtparentswaterford@gmail.com
www.lgbtparentssoutheast.com
facebook.com/lgbtparents.waterford
Mobile 086 720 0634
@marriagequality Day 5 of our countdown already!
Today's issue is a big one… it's PARENT + CHILD
::bit.ly/QhGYPM #MissingPieces

What does the Civil Partnership Act say about children?
Not a lot, is the honest answer! The fact is, although same-sex couples around the country are (and will continue to be) loving mums and dads to their children, only MARRIED parents and their children receive constitutional recognition and protection as families. As a result, although both parents have an equal relationship with a child when it comes to raising him or her, it is only the biological/adoptive mum or dad who has a LEGAL relationship with the child. The other remains a stranger in the eyes of the law.
Our Missing Pieces research identified 25 areas in which the lack of a legal relationship between a child and his or her non-biological/adoptive parent has MAJOR implications in practice for same-sex couples and their families. These areas include: adoption, guardianship, custody and access rights and protection of children during the dissolution of civil partnerships.
What does this mean for same sex couples and their children?
In terms of adoption, although gay and lesbian people can apply to adopt as individuals, it is only married couples who are eligible to adopt jointly. This restriction includes inter-country adoptions AND one partner adopting his or her partner's biological child. Guardianship (parental responsibility) is in the same situation – there is no way to confer parental rights orresponsibilities on a civil partner who is not the biological parent of a child – even if he or she is parenting the child or children within their family unit.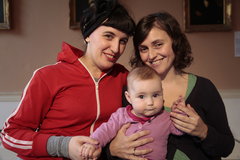 In terms of custody, access, maintenance, dissolution of a civil partnership and inheritance, the situation is the same. The state does not recognise any relationship between a non-biological parent and his or her child(ren) – except in some aspects of finance and taxation as a result of amendments to finance legislation. And so, for example, non-biological children have no legal rights under the rules of inheritance (i.e. where their non-biological parent dies without making a valid will). They are also not legally entitled to challenge any will that IS made, if it fails to provide adequately for him or her, in the way a child whose relationship with their parent is legally recognised is able to do.
Our own ground-breaking report, Voices of Children, highlighted many of the potential implications of omitting childrens' rights from the Civil Partnership legislation. The workshop and following conference gave adult children of same-sex couples a space to talk about how the lack of legal recognition of their relationship with their non-biological parents had significantly affected their lives. What mattered most to these children was that their family relationships be recognised and protected, and that no other generation of children with lesbian, gay, bisexual or transgender parents be discriminated against in such a way.
Act Now!
Frances Fitzgerald, Minister for Children & Youth Affairs, recently launched a public consultation on ways to improve the lives of children and young people in Ireland. This is a key chance to put the rights of children of same-sex couples on the government's agenda, and in the National Children and Youth Strategy for the coming years.
You can help children and same-sex parents by clicking this link and making a submission to the National Children's and Youth Strategy.
Share your story – in the campaign for marriage equality around the world, REAL people sharing REAL stories helps to change hearts and minds to support our cause. PLEASE take a moment to share your story with us. You can share either on our website or by speaking to our Communications Officer, Kirsten on 01 873 4183.