John Ryan & Martin Ryan Photographic Exhibition at the Arts Centre
D'Lush Cafe, Wexford Arts Centre, Corn Market, Wexford
Framed Photos
€40 each, 3 for €100
unframed
€20 each or 3 for €50
Packet of 10 Christmas Cards €6.00
Pay at the Arts Centre counter & take away today.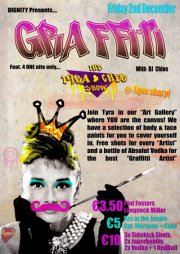 Graffiti Launch Night feat. The Tyra and Cher Show
Time: 02 December at 21:30 – 03 December at 00:30
Location: Dignity Bar,  John Street, Waterford.
To give you all a taste of things to come in 2012, Dignity is hosting it's very first 'Graffiti' Night.Also, to launch the night, there will be a very special, once off 'Tyra and Cher Show' reunion with lots of new numbers, fun and games. Show time is 11pm sharp (not Cher time). After the show, DJ Chloe will be playing all the best in Camp Classics, Pop and Chart into the early hours.I will be out the back in our brand new 'Art Gallery' and I'll have lots of body and face paints for you to cover yourself in. Every 'Artist' will receive a free shot and the best 'Graffiti Artist' will receive a bottle of Absolut vodka to take home with them.
Drink promos on the night are:
€3.50 Pint of Fosters
€3.50 Long neck millers
€5 Sex in the Jungle Cocktails
€5 Captain Morgans and Coka
€10 Double vodka and redbull
€10 2x Jagerbombs
Hope to see you all there 🙂 x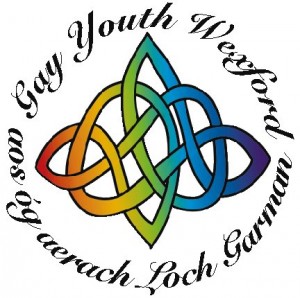 LGBT Youth Group Wexford
A Gay Youth Drop in Service for LGBT people under the age of eighteen and over the age of 14. We strive to help the LGBT youth come to terms with who they are and to help them make friends in a safe understanding environment
OPENing; 4th December 2011 (Every Sunday)
At the FDYS, The Cloisters,  Francis Street, Wexford
ALL LGBT & FRIENDS BETWEEN 14.00 – 18.00
Welcome service for 18-25,  we commence early 2012:-D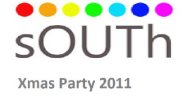 sOUTh Xmas Dinner
sOUth's annual Xmas dinner.. we have booked 20+ so please get your names in ASAP if you would like a place!
Everybody welcome but spaces limited!
Time 10 December · 20:00 – 22:00
Location:  Espresso, Parnell Street, Waterford, Ireland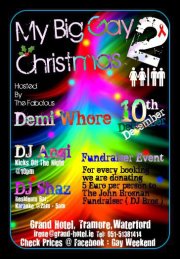 MY BIG GAY XMAS
By Gay Weekend
10 December at 18:00 until 11 December at 18:00The Grand Hotel, Tramore, Waterford.
Welcome all to "MY BIG GAY XMAS" on Saturday, 10th December – which will be even madder and wilder than the 1st one!!
MY BIG GAY XMAS facebook event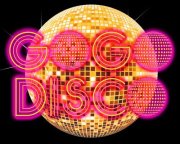 GO GO DISCO – Camp as Christmas
Cpt Anchor invites you
17 December at 22:00 – 18 December at 02:00

Location: Hush @ McSorleys Bar, Kilkenny
Go Go Disco is a heterosexual friendly club night, playing high nrg disco, pop and house music. An arty farty party for club freaks and chic geeks.
DJ Iano and Captain Anchor – DJ set & Live Performance
10PM TILL LATE!
Release your inner Rudolf & dance like no ones watching!
Pack your dancing shoes and dress to express.
Caution: May contain traces of Mariah Carey.
Door Tax – Free B4 11pm – €5 After 11.
Gay Wexford Christmas Drinks

30th December 2011 • 21:00 until 00:00
Hope you have been having a magical Christmas Holiday so far.
We have organised a few drinks for Friday December 30th @ South 51 on Wexfords main Street.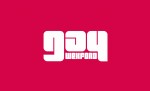 South 51's resident DJ shall be on hand to spin the soundtrack to your Christmas nite out.
There will be some complimentary finger food too.
Admission as always if FREE.
Kicking off around 9pm
Hope to see you all there
Gay Wexford xXx