Together Make Wexford A Better Place to Live :
Open to everyone
Wexford LGBT Youth group launching this Autumn – would you like to hear more? come on the 25th of May
Pride seasons coming should the Wexford LGBTF&F community do something, BBQ, Picnic, …… – would you like to hear more? come on the 25th of May
Want BLT Womens socials? – would you like to hear more? come on the 25th of May
Want LGBT over55's socials?- would you like to hear more? come on the 25th of May
Want Transgender events? – would you like to hear more? come on the 25th of May
Want more regular LGBT social/ sports in Wexford?- would you like to hear more? come on the 25th of May
LGBTF&F Community Wexford. Be safe be seen in Wexford, Safety in Numbers- would you like to hear more? come on the 25th of May
Mr & Ms Gay Wexford – would you like to hear more? come on the 25th of May
You have something to share?- we'd like to hear more? come on the 25th of May
Your Plans? Your dreams? Your hopes? Your safety? Your vision? Your family? – we'd like to hear more? come along on the 25th of May
Followup at the 'the Library Bar' (downstairs, Whites Hotel)  afterwards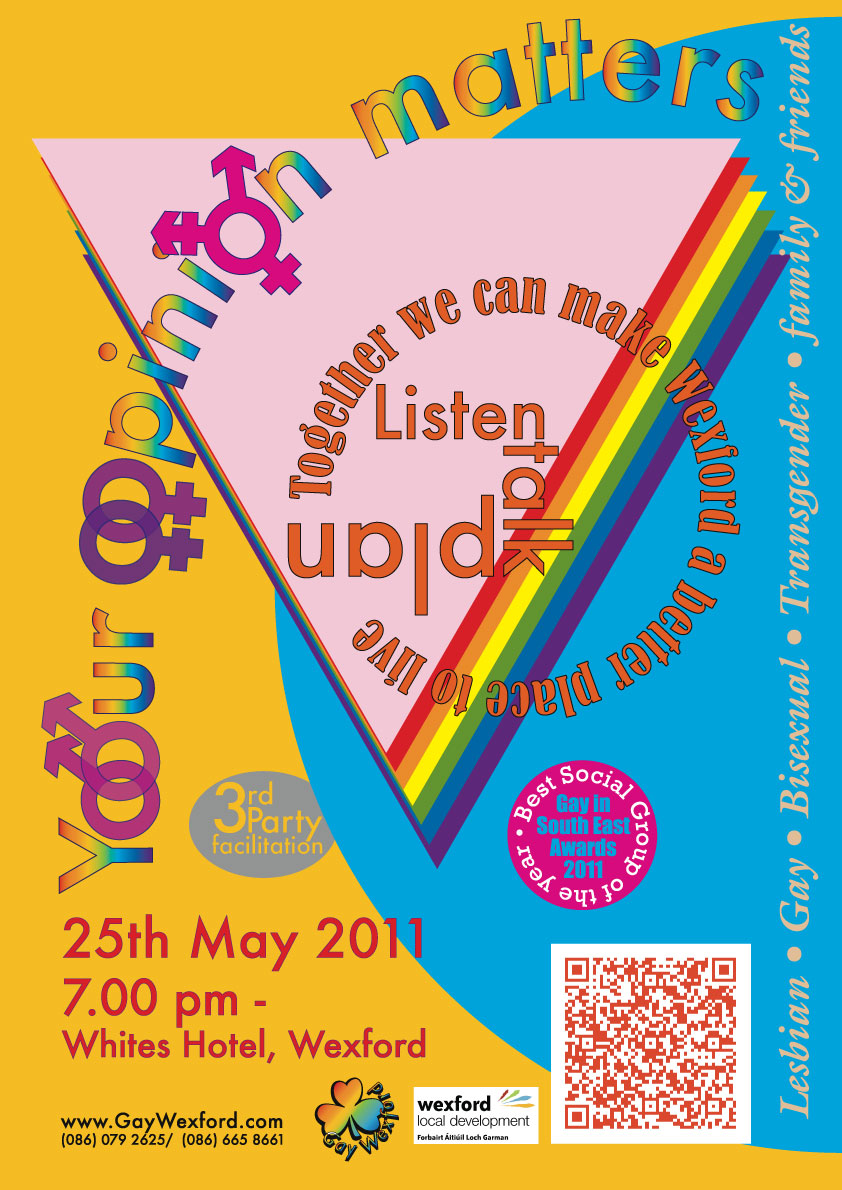 Time: 25th May · 19:00 – 22:00
Location: 'The McCarthy Suite 2, 'White's of Wexford Hotel – Abbey street, Wexford town
We are hosting an open evening on the 25th May in White's Hotel – from 7.00pm. All those with the well being and happiness of lesbian, bisexual, gay and transgender people at heart are invited to attend.
This includes family, friends and members of our LGBT community in Wexford. The purpose of the evening is to vision for a society that is respectful, accepting and able to honor all members of our ommunity.
The session is supported by Wexford Local Development and will be facilitated to encourage an open discussion, listening and planning process. You are invited to come along and share your wishes, hopes and vision for our community.
Please join us – your opinion matters.
(086) 079 2625/ (086) 665 8661
[e] info[at]gaywexford.com , life[at]gaywexford.com
Refreshments available at 7.00pm
Previous meeting: March Meeting



Gay Wexford




[t] 086 079 2625 Outline: 6:30pm - 7:30pm , Monday to Friday




[w] www.

gaywexford.com

, www.

bebo.com/gaywexford




www.

facebook.com/GayWexford

, 

facebook.com/wexfordtrans




Queerid.com/GayWexford

, [twitter] 

twitter.com/GayWexford




[e] info[at]gaywexford.com , life[at]gaywexford.com,




Gaze LGBT Southeast Newsletter submissions: [w] gayse.net,




[e] GWeditor.gaywexford@gmail.com





Gay Youth Wexford [e] gayyouthwexford[at]gmail.com




[f] 

facebook.com/Gay.Youth.Wexford





Gay Wexford

 is a Wexford based LGBT Community Group offering safe,
social outlets, support and services to Wexford's Lesbian, Gay, Bisexual,
Transgender population, their friends & family and neighbouring counties.



Gay Wexford

 is a non profit organisation. We hold fundraising events & actively
seek external funding from Local, Community and State Bodies to extend and develop
the services which we can offer to support the LGBT community