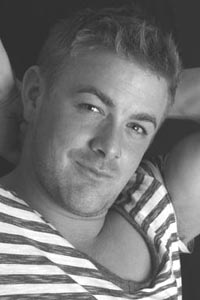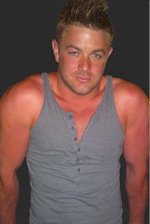 Mr Gay Ireland 2010/ 11
Name: Barry Francis Gouldsbury
Age: 27
Height: 185 cm
Hair: Blond
Eyes: Blue
City: Dublin
Occupation: I am a hairdresser. I have worked in Loreal as an educater, I am also studying fitness to become a personal trainer.
Hobbies: I am currently Irish champion in acrobatics gymnastics.
Zodiac: Aquarius
October 2011 I spoke to Baz Gouldsbury Mr Gay Ireland 2010/ 11 about his Mr Gay Ireland experiences and journey to Mr Gay World.
Q: When I've spoken to people I've explained that there is more to Mr Gay Ireland than a beauty pageant. There is Fundraising for the HIV clinic in St James Hospital Dublin. LGBT awareness raising and being positive role models for young Irish LGBT. Receive visits and speak to practitioners and people from HIV clinics. Be ambassadors for Ireland and the Irish gay community.
When you first heard of Mr Gay Ireland were you aware of any of this?
Baz: No, I had a reason for going forward. When I lived in the UK a friend of mine was diagnosed with HIV. We didn't know anything about it. We were so distraught. It was all unhappiness that he was going to die. We weren't educated at all. We knew nothing about the medication or long term. When he was rediagnosed two years later, we had learnt so much in two years.

About the medication and how people live so much longer into their late 60's and 70's. People can have children. People can have their sperm washed. Also people can have * PeP which is when someone thinks they might have come in contact with HIV, it's kind of like a morning after pill. It was such a tramatic time.

Then I heard of a Mr Gay Ireland who had a lot to do with the HIV cause. That's probably what motivated me mostly about going into the Mr Gay Ireland. Because a lot of people still don't know a lot about HIV and the people that do know recognise it's not a death sentence, so they don't mind having unprotected sex. They can be treated for it. Which is a shame, because, it is still an epidemic. At the moment it's as bad as it was in the 80's. In the eighties they had no medication.

That was my motivation for going forward for Mr Gay Ireland.

Why do you think that in the media HIV is not considered as serious as it was in the 80's. Is it because there is an effective treatment?
Baz: Yes it is because there is treatment. I have seen the adverts from the eighties. Where they were shock adverts. I wasn't born then. Definatly people are not worried when I speak to my fans they tell me, it's not a death sentance, it's just like having diabetes. HIV is not seen as a serious death sentence.

My friends were so positive, it was brilliant. You see so many people who aren't coping with it. I can understand people not coping with HIV and stuff , thinking the world has ended. Then there loads of people on the other side who think I'm not gonna die.

The general public know particularly young gay people know it's not a death sentance. When I lived in the UK people people kind of purposely, just unself consciously aware say. Oh well if I have unprotected sex it's not the end of the world. Which is stupid really.
Q: More on the nitty gritty there was a nice article in the Wexford People Paper this week about Valerie and mentioned that. You came tenth in the Mr Gay World.
What was required of contestants for the various heats?
Baz: For the Mr Gay Ireland ?

Mr Gay Ireland is very similar to Mr Gay World. Basically there was a panel interview, then there were clubwear, formal wear then we had to speak for a minute. Speak about a topic that was close to our heart. I spoke obviously about my friend with HIV. Mr World is a similar format except you don't speak on the stage and there is a talent round as well.

Though most people think oh I couldn't stand up there and take my clothes off but it's not like that at all. I said it before and I'll say it again you can't lie about yourself. If you're true to yourself it will come across, be genuine. If you have a valid reason it will show. Just keep true to yourself and you'll do well in Mr Gay Ireland, Mr Gay World.
You've mentioned some harrowing but eyeopening experiences you've had along the way to Mr World.
Baz: it's been such an emotional and self building experience. Experiences I'd never have had in my life. When I was out at Mr World we visited an orphanage. We brought books, crayons and copies stuff like that that they don't have. We were in a building well there wasn't really a building you know how that goes in third world countries. We decorated it from floors upwards to the roof we put in book shelves. Then we were allowed to go out with the children while they were having spaghetti bolognese 'n' stuff.
They were so happy.
* PEP is not a "morning-after pill." It is a program of several drugs, several times each day, for at least 30 days. Two antiretroviral drugs—the same kind that HIV-positive patients have taken since the '80s. As preventative medicine, the drugs work with a one-two punch: The first intercepts the virus' initial attachment to DNA, and the second stops infected cells from spreading the virus. The virus must be intercepted before it attaches to cells and reaches the lymph nodes, it is crucial that PEP be administered immediately—each passing hour means decreased effectiveness. more