Kevin speaks on being a gay parent. Starting the group LGBT Parents Southeast. Its impact on the lifes of his children and the groups continued growth one year on. 'Getting better and better all the time'
Kevin made this video & would like feedback from viewer please contact him on the LGBT Parents website here
Call us on 086-7200634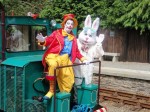 This Easter LGBT Parents SouthEast are riding the Suir Valley Railway. On Easter Sunday the Easter Bunny arrives.
Easter Sunday the 8th April or Monday 9th
There are no weight restrictions adults and children of all ages welcome. If you like to join us contact Kevin at  info@lgbtparentssoutheast.com text or phone 086 720 0634
We're looking for more people to come along and join us in Waterford to play bowling. We hope to build a few LGBT* bowling teams to play against other lgbt* groups in the Southeast.
If you have the skill's or the enthusiasm to find them, spare time and would like a casual way to meet people.
Please contact us: lgbt parents southeast here or @south lgbt