We recently caught up with the host of Ms Gay Waterford. This year the Waterford heat will be held on the 3rd of August 2011 at Dignity Bar, John's Street. Admission is free before 9pm, €3 after (all drinks €3) Entry forms  available from MsGayIreland.com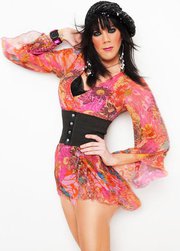 You hosted Ms Gay Ireland 2010 were you surprised by the response over all? Contestants, public?
I really was. Every week Joanna would be telling me that there was a new person selected for the finals or some region was holding a final. The initial numbers for the final were pretty big but as the time got nearer a few dropped out. Even on the night of the final in The Forum there was a great buzz about the place and the audience were great. I hope the Limerick audience are just as loud this year.
You're hosting the Waterford Ms Gay Ireland heat in Dignity on the 3rd of August.
I sure am. It will be a change to host a qualifer and leave it in the hands of the our judges to pick. We felt it was the right time to have the qualifer alongside Pride, so they help each other out. Now i just hope all the Waterford lesbians come down and support and maybe even enter.
What are the entry criteria for Ms Gay Waterford? Age etc..
The only 3 criteria are that you are over 18, female and also available for the final. After that it is open to anybody to take part. What i tell anybody entertng this competitions is go and have fun.Looks dont play a part at all. If you are a confident person with belief in yourself then your halfway there.
What is required of the participants on the night?
Would you believe im still waiting to be told that. Each qualifer can do what they want for their heats, how they pick the winner is up to them. Im sure we will have a set programme in the coming days.
What is your favourite part of the competition?
Last year it was the part where they all had a question to ask each other. We really got to see who each lady truly was and how they felt on certain subjects.Alot spoke passionately and the majority all had very personal stories that they shared. On a side note, the friendships these ladies made and contacts was amazing. I know alot are still in contact today and backstage they all supported each other so much. i loved it.
At the Ms Gay Ireland 2010 there were a variety of women, styles, ages, personalities, life outlooks, not the usual pageant candidates. Do you hope for as wide a selection this year?
I really do. It is competitions like these that show that lesbians come in all forms and really changes the stereotype that you