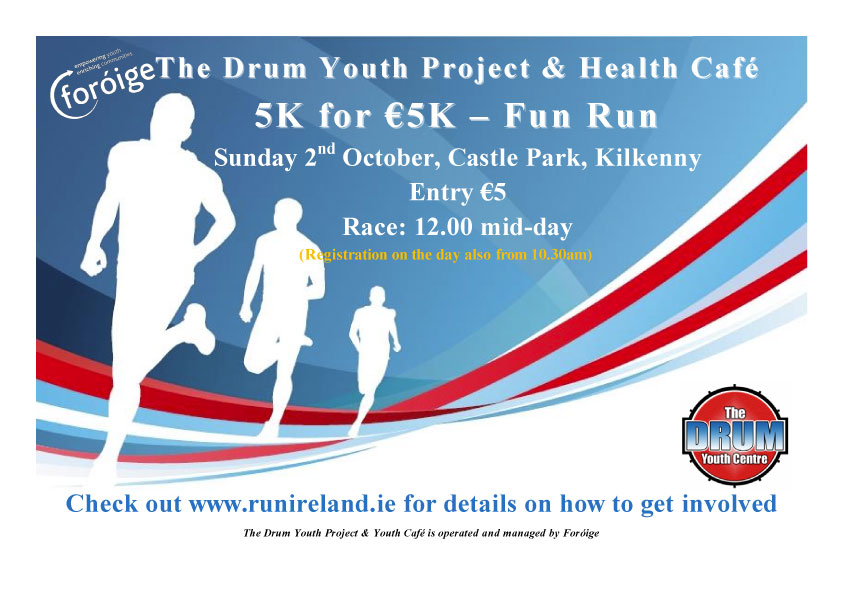 Hi all.
The Drum Youth Centre is hosting its first ever fun run on Sunday the 2nd of October in Kilkenny Castle Park . The 5 k run
is a fun afternoon for people of all ages with childrens entertainment provided. Registration is available on the day also from 10.30am with the run beginning at 12 noon. Entry is 5 euro only per person. So please come along and bring friends and family
For a day that promises to be good fun. For more information please check out www.runireland.ie.
Thanks Melissa
Melissa Faulkner Foroige Office,
The Drum Youth Project and Health Café,
Goods Shed Square,
Mac Donagh Junction Shopping Centre,
Kilkenny
Office: (056) 7788134
Mobile: (086) 7736976
Email: melissa.faulkner@foroige.ie
Sunrise LGBT Kildare Athy Branch are having a meeting on the 13th of October
at
7.30
in the
Athy Community Development Project
Woodstock Street, Athy, Co Kildare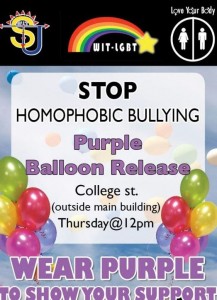 WIT- LGBT
Hey all … so Thursday (13th) will be a great day for the lgbt society. I am urging you all to wear purple on the day to show your support for all those that have suffered from homophobic bullying. At 12pm on the college street campus we will be holding a balloon release to remember all those that took their lives as a result of homophobic bullying. We would love to have as many of you there as possible to support the campaign.
And not to forget we have our meet and greet in dignity bar at 8pm 🙂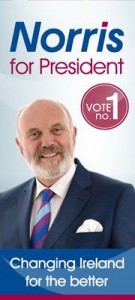 Big quiz night
Time: 20 October · 20:00 – 23:00
Location Revolution gastro bar, John's St
Created by: Val Walsh, Niall Taylor
More info: Quiz night to raise funds for the DAVID NORRIS FOR PRESIDENT campaign.
Quiz starts at 8.00pm and goes until 10-10.30pm with DJ and karaoke after.
€5 per person with a maximum of 5 people per team.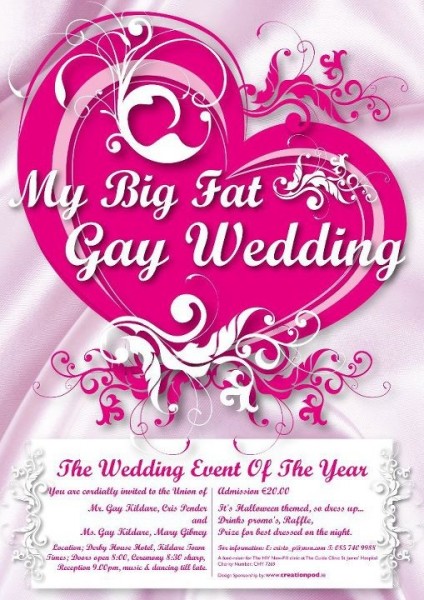 IT'S THE WEDDING EVENT OF THE YEAR
You are cordially invited to the Union of
Mr Gay Kildare, Cris Pender
and
… Ms Gay Kildare Mary Gibney
Location; Derby House Hotel, Kildare Town 
Date; 22nd of October
Times;
doors open 8:00
ceremony 8:30 sharp
reception @ 9pm, music and dancing after till late.

ALL WELCOME
It's Halloween Themed, so feel free to dress up…
Admission €20
food, drinks promo's, Raffle and a prize for best dressed on the night
Remember guys It's a fundraiser for The HIV Fill Project at The Guide Clinic in St James' Hospital. 
Charity Number; CHY 7269

for more information or if you're a business and feel you have something to contribute
email; cristo_p@msn.com
call or text; 085 740 9988
"the wedding is being used as part of Mr Gay Kildare Cris Pender's fundraising efforts for Mr Gay Ireland as fundraising is a very big part of the MGI and counts towards Judging"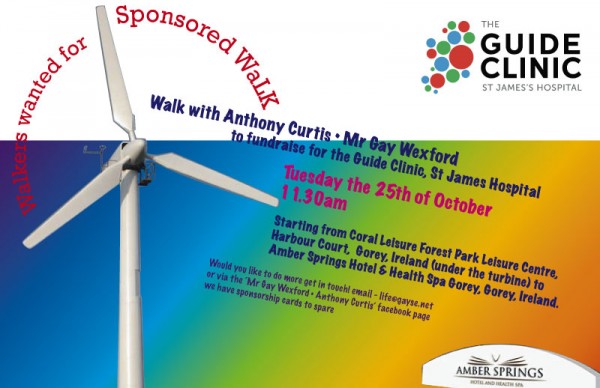 Anthony Curtis' Final Fundraiser before the Mr Gay Ireland in the Alington Hotel, Dublin this Sunday at 7.30pm.
This Tuesday join Anthony in his Walk from Courtown to Gorey. Starting from under the Turbine at the Coral Leisure forest Park Leisure Centre, Harbour Court, Gorey Ireland to the Amber Springs, Hotel & Heath Spa Gorey.
Tuesday the 25th of October at 11.30am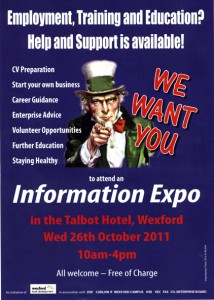 Information Expo
Employment, Training & Education,
Talbot Hotel, Wexford, Wed 26th October 2011, 10 – 4pm,
CV Preparation

Start your own Business

Career Guidance

Volunteer Oportunities

Further Education

Staying Healthy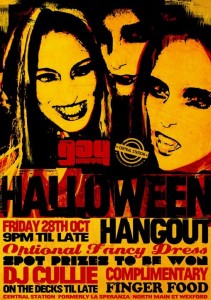 Gay Wexford
Halloween Hangout
Friday 28th 9.00pm til late
Central Station, North Main Street, Wexford
Sunrise LGBT Kildare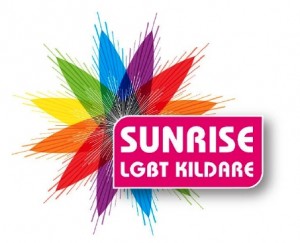 Different groups dependant on interests, e.g. Hill walking, Book Clubs, Gay People Parenting Support group…..
Date: every second week · 19:00 – 22:00
Location: Sunrise Coffee & Books, Eyre Street, Newbridge, Co. Kildare, Ireland
Contact Information
Phone • 857409988 Mobile
Email • sunrise.lgbt@gmail.com
Facebook• facebook.com/sunrise.lgbt.kildare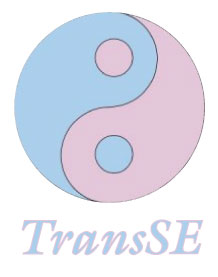 TranSE, Transgender South
East peer support group…
meets at the Cheshire Home, John Street, Waterford
every second Friday of each month.
For more information call Vanessa on 085 147 7166.