On the 2nd of Febraury last, I read a tweet from Joanna Ryde, she was deriding 'the sun' for their ignorance and bad manners. @joannaryde "Just saw the front of the sun! Disgraceful that they think someone being transexual is front page news!! " 3:36 PM Feb 2nd via Twitter for Android. I was immediately reminded of an article from the Wexford People published a few years back, making news of a Drag queen walking down Main Street during the Wexford Festivial Opera, lets face it, today if there weren't some 'Drag Artists' walking down Main Street during the Wexford Festival Opera we'd have cause to be worried.
Later on my return from the post office I picked up a few publications, including the offending rag. Indeed! it truly wasn't worthy of publication. In fact the story had been published with out permission of the lady who's private life it reported.
It quickly occurred to me that the photograph they used was really an unsolicited snap shot of a woman taking her 'fag break' and definately not posed for. I noticed a few other things about the article too. The most striking being that this woman is a positive role model. A respected lecturer, it's reported that she's respected by her students and work colleagues who are aware of her transition.
Inside the surrounding headlines to the article take the reporting farther into ridiculous. What does 'Trinity Prof is Helen of boy' even mean? 'Chop of the class' what? Those headlines were "all greek to me"

The article received some reaction from the public, mainly of disgust from members of the Lesbian Gay Bisexual and Transgender community. TENI (Transgender Equality Network Ireland)  gave the following reaction " TENI was, however, disappointed in The Irish Sun's lack of sensitivity and understanding of the complexity of transgender issues. The sensationalised portrayal of Dr Cuypers was inappropriate and in poor taste. TENI believes that no individual should have personal details paraded in public forums without their consent". The full response can be read here. Members of the Gay Press and individuals shared their disappointment at the Sun too. 'In this day and age.'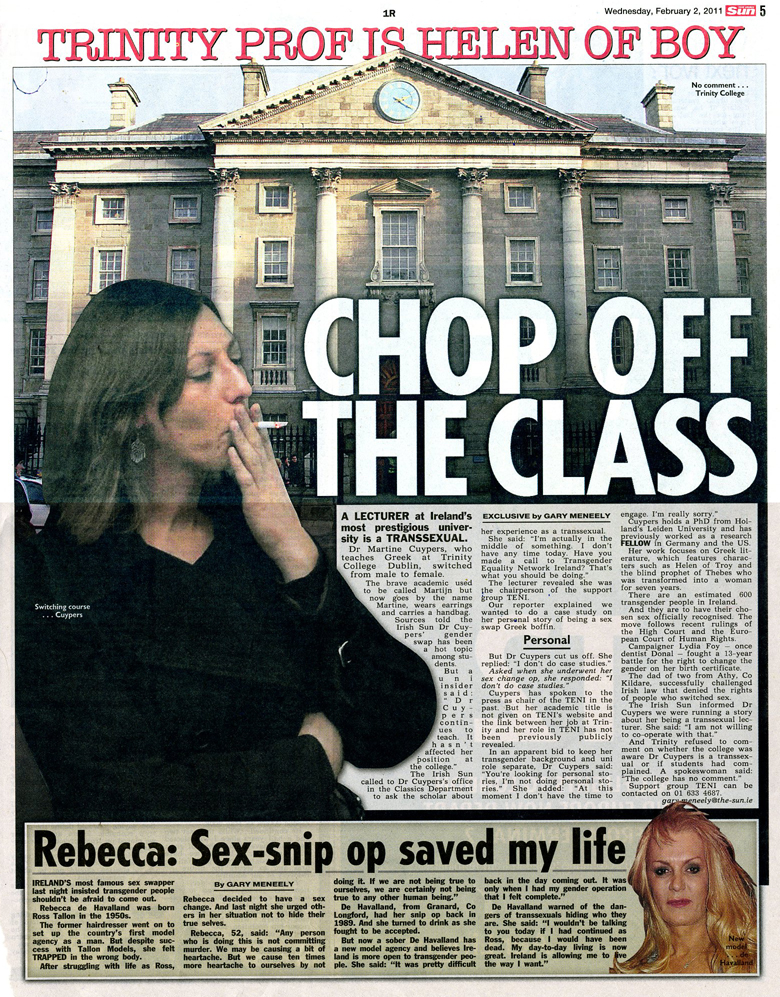 Reading the Rebecca De Havalland article it appears for a change she was consulted to take part. This is tacked beneath the outing article. Ms De Havilland asks that others in Transgender situations not be afraid to express themselves.
In the article were given a brief outline of Ms De Havillands life from being raised as a boy, as a model, her life in transition to her gender reassignment surgery in 1989. Her personal trials, her acceptance of herself and the setting up of her new model agency.
Ms De Havilland believes Ireland is more open to 'Transgender' people. "It was pretty difficult back in the day coming out. It was only when I had my gender operation that I felt complete". Rebecca continues "I wouldn't be talking to you today if I had continued as Ross, because I would be dead. My day-to-day living is now great. Ireland is allowing me to live the way I want"
An equal Ireland and a safe place to live something to aspire to.
To receive information on Transgender issues you'll find some details 

here