Wexford Local Development Strategic Plan 2011-2013 Community Groups Online consultation
Wexford Local Development is a community-based development company working for your county. We are committed to making a positive impact across County Wexford by promoting employment and social inclusion and supporting enterprise development. We work with local communities and individuals in making Wexford a better place to live.
Have your say! WLD are now preparing our strategic plan 2011-2013. Consultations are now underway, come and join us at one of our consultation meetings or complete our online consultation and submit.
WLD have specifically asked the Wexford LGBT Community to participate
Fill in the Survey here [feedback taken until the end of june]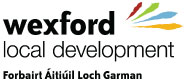 Wexford: 9 Mallin Street, Cornmarket, Wexford
Tel:       053 9155800.  E-mail:

info@wld.ie