Contact Form Shortcode Error: Form 2 does not exist
Ms/ Mr Gay WexforD 2011
Date: 19th August 2011, 8.30pm
Location: Wexford Arts Centre, Cornmarket, Wexford
Bar downstairs, theatre layout: cabaret.
Hosted by Ms Victoria DeTampax & friends
Admission €10
In association with GaySE.net LGBT SouthEast Newsletter
Local business why not get behind your candidates male & female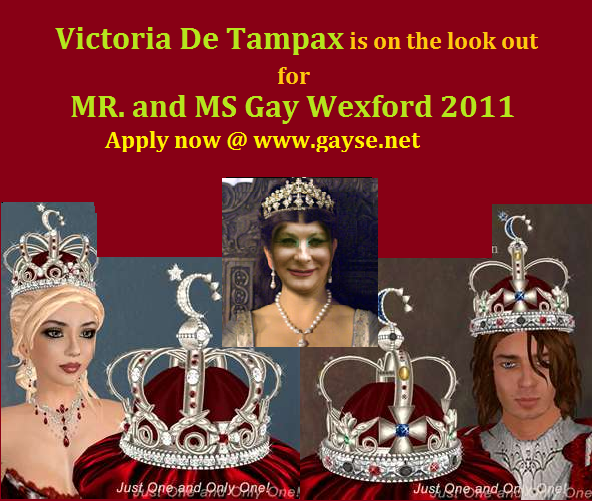 This year Gay Wexford are holding the Ms Gay Wexford & Mr Gay Wexford on the same night in August. Giving the winners time & opportunity to raise funds for their respective charities for Ms Gay Ireland & Mr Gay Ireland. No fund raising is required for the County Wexford Heat.
UPDATE: from Ms Gay Ireland
"The candidates don't need to raise money however they must choose a charity to receive 50% of the prize fund from the final should they win (Last year Tasha picked Rainbow Support Services in Limerick) The other 50% goes to the LGBT diversity national trust fund."

All entrants must be 18+
be Lesbian, Gay, Bisexual, Trans*, Other, friends or family of LGBTQ
be living, have relatives or were grown in Wexford County ;-D
Formatt:
There will be 3 rounds:
• casual dress & talent
• swimwear (open to reinterpretation, be creative) It's a touch of fancy dress, with a swim theme. Perhaps a good round for a sponsor to make their mark? (County Wexford knows nautical)
• formal dress


Entry & public vote on www.gayse.net
• 25% online from the 12th of August @ gayse.net
Entries after this date may be at a disadvantage
• 25%  by ballot on the night.
• 50%  by panel of judges
Upload your details, pictures, perhaps a sample of your talent using the form below or email life@gaywexford.com.
(song writing, singing, stand up, dance, story telling, Drag, musical glasses, what can you do?
Or send your photographs & details directly to life@gayse.net